Francesco Traversi – Italy

Francesco Traversi (Global Music Awards Winner 2016-Usa) is an italian multi-awards winner composer also based in Los Angeles where he works as arranger and orchestrator. Currently he's nominated "composer in residence" from IBW International Brass Festival of Florence (IT) and guest composer and choir conductor at the Florence Choral International Festival 2018-19. Formed in the world of European avant-garde and tightening immediately a close relationship with the new languages and modern technologies, Traversi composes works that move freely between contemporary idioms and rhythmic and melodic innovations, combining intricacy and technical virtuosity with sound research and experimentation, without forgetting the teaching of composers of the twentieth century. Traversi's major works have been programmed by several orchestras in Europe and also in the United States. His music, available in print also from Wichy Edition, have been released on several CD's. He has won many international awards for orchestral compositions and original soundtracks. Recently, he won the Gold Medal (as best classic composer and best classic composition) at the Global Music Awards 2016 in San Diego after the Bronze Medal (2014, as best movie soundtrack) and he obtained a prestigious nomination for Hollywood Music Awards in Los Angeles. In Italy won the First Prize at the competition Best Soundtrack 2014 for short films and the First Prize at the "Sound in motion" as best soundtrack for animations. He distinguished himself also in several national and international competitions in contemporary music winning prizes and awards such as the Special Prize 2004 at the "Modern International Composition Competition" in Dublin and the second prize at the International Competition of Contemporary Composition "Alice BelColle" 2005, First Prize at the XIII National Competition "The Golden Baton" in Rome, "the Golden Aldobrandesco 2010 " and "Guido d'Arezzo 2012" for his artistic and cultural activities, just to name a few. For the season 2017, he received a prestigious commission from the Opera Theater of Florence for a new Symphonic Fantasy entitled "The Titans" for 10 brass soloists with international fame and symphonic orchestra. In 2016 the Opera of Florence and IBW commissioned him a symphonic poem for the anniversary of the tragic flood of 1966 performed on the bank of the River Arno from an orchestra of over 100 musicians. He obtained a commission from the prestigious Stanford University in San Francisco for a new symphonic poem performed at the Bing Concert Hall during the music season 2013-14. In 2013, he moved in Usa where he's worked as score assistant and orchestrator for leading film composer "Golden Globe Nominee" Christopher Young in his Studios in Los Angeles. This collaboration is still active. In 2009, the Ministry of Culture, Legambiente and the ICOM commissioned him a symphonic work performed at the closing of the L'Aquila G8 Summit in the presence of many personalities from the world of international politics and culture. In 2008, his mass for soloists, choir and orchestra received a special praise from Pope Benedetto XVI. From 2005 to 2007 he held the position of Artistic Director of the "BolsenArte Festival" and since 2006 the Principal Music Director of the "Ladies Italian Chamber Orchestra" (L.I.C.O). He was appointed "composer in residence" from 2003 to 2010 of the "International Festival of Santa Fiora" who commissioned him new works for various ensembles. In 2001 he made his debut in the Opera during the 65th Maggio Musicale Fiorentino with a committee of the Municipal Theatre of Florence, in collaboration with the "L. Cherubini" Conservatory of Music and the "FineArts Academy". Since 1999 he has regularly worked both as a Conductor and as a Composer with several international orchestras and choirs like the Orchestra and Chorus of "L. Cherubini" Florence Music Conservatory, the "Italian Chamber Orchestra", the "Modern Ensemble", the "Kammerconcert", the "Arcadia Wind Orchestra", the "Rome Philharmonic Orchestra", the "Grosseto Symphony Orchestra", the "Tartini Symphony Orchestra ", the "Italian Wind Orchestra", the Roman Choral Institution, the "Lviv Symphony Orchestra", the "Bratislava Philharmonic Orchestra and Choir", the "Ladies Italian Chamber Orchestra", the "Stanford Wind Ensemble" and the "Premium London Symphony", just to name a few. He studied the piano in Siena and then in Florence where he majored also in Composition and Conduction at the "L. Cherubini" Conservatory of Music. In the meantime, through specific professional seminars and concert-lessons, he came in contact with musicians of the calibre of Stockausen, Xenakis e Berio, who influenced the development of his own personal style of composition. He improved his skills in many other important international music academies and further pertinent studies were: Jazz music in master courses held in Perugia by Berklee College of Music of Boston (R.Santisi, L. Monroe, G.Tommaso), Music for Movies in the courses organized by the Accademia Chigiana of Siena under the guidance of Ennio Morricone and Nicola Piovani (Academy Award Winners), Choir Conduction under Prof. Morelli and Informatic and Elettronic Music under Prof. Marco Stroppa, Orchestra Conduction under Prof Trasimeni (Seoul Philharmonic Orchestra-Korea) Prof J. Perez Gomez (Music University of New Mexico – USA). In his career he composed works especially for chamber music, symphonic music, sacred music, wind orchestra, pieces for solo instruments, string quartets, pieces for large orchestra, symphonic poems, operas, scenic paintings for voices and orchestra, pieces for chorus and young performers, arrangements, transcriptions, instrumentation for wind ensemble, but also music for images, new age, pop, rock and experimental for over 150 titles. He started also his "film music scoring" career in 1998-99 with soundtrack of the documentary movie series entitled "The ways of art" produced by Cosmofilm ltd for the national italian television (RAI). Then he worked in some short films, commercials, documentaries, theater multimedia performances both as a composer of original music, additional music and as an orchestrator and arranger. In 2011 he composed the music for the short movies "Exodus", "The Light over the stone" and in 2012 signed the entire soundtrack of the film "L.over.S" (Love over Sickness). After this, he became part of the staff of Ilsley Music inc in Los Angeles (USA) where he worked on soundtracks of various major movie (GODS BEHAVING BADLY with Sharon Stone, Alicia Silverstone, Christopher Walken, John Turturro, Edie Falco, Oliver Platt – MADEA AT CHRISTMAS with Tyler Perry – SINGLE MOMS CLUB with Nia Long, Wendi McLendon-Covey, Zulay Henao, Cocoa Brown, Amy Smart). Currently works as a music supervisor for the Italian television station NTI. He is often engaged as orchestra and choir conductor.
---
Luca Benucci – Italy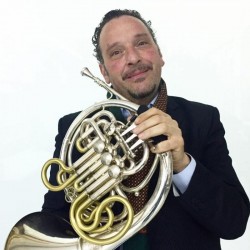 Luca Benucci's vast performing and didactic career spans over 30 years and has left an indelible mark on the international music scene. Championing all genres of music under the batons of the most notable Orchestral Directors of our time, developing unique and varied Jazz, Chamber and Solo programs collaborating closely with Jazz and Classical Virtuosi and Pop/Rock stars alike, and by innovating new pedagogical approaches to performance and practice methodology, Mr. Benucci has positively influenced and enriched the lives of numerous professionals, amateurs, students, and audience members throughout the world. Mr. Benucci has been invited to play as Guest Principal Horn in many prestigious Orchestras such as the Chicago Symphony Orchestra, Berliner Philharmoniker, Staatskapelle Solisten Berlin, Super World Orchestra, Israel Philharmonic, Teatro alla Scala di Milano, World Master Orchestra and ConcertGebouw in Amsterdam. He still holds the full-time position of Principal Horn in the Maggio Musicale Fiorentino Orchestra since 1995, under the direction of Zubin Mehta. When he isn't working in the Orchestra, many of his other projects are done in collaboration with artists and musicians in chamber groups such as the Nuovo Quintetto Italiano, Italian Brass Ensemble, the Brass Dimension Ensemble and he is member of the Italian Wonder Brass. In addition to his musical work, Mr. Benucci founded and acts as Artistic Director of the Italian Brass Week, an annual International brass Symposium and Festival now in its 18th season, and the World Brass Association in order to provide easily accessible world-class education to students from both Italy and around the globe. He has also established musical organisations and groups such as the Italian Chamber Orchestra, Mimesis Formazione, Maggio Formazione, Sardinia Brass Festival, Santa Fiora in Musica, Note di Viaggio, and Meet the Soloists – a project that brings Principal players and Soloists from the All over the world together for intimate and informal concerts and lectures. As a highly sought after instructor, Mr. Benucci has held masterclasses in the most acclaimed Universities and Conservatories in the world, including Boston University, Roosevelt University, Juilliard School of Music, Curtis Institute of Music, Boston Conservatory, Indiana University, Puerto Rico Conservatory of Music, Ankara University, Ionian University of Corfu, Maastricht Conservatory, Barcelona Conservatory, Valencia and Madrid Conservatories, Tel-Aviv and Jaffa Universities, Musashino Music College of Tokyo, and the Shanghai and Beijing Conservatory, Singapore University, Manaus University, Puebla (Mexico) and Danzig University. He has also been invited as a guest soloists and teacher to international Brass Festivals in Japan, Cina, Costa Rica, Spain, USA, Mexico, Brasil, Uruguay, Germany, Austria, Swiss and many others. In his spare time, Luca is an avid chef and gastronome and loves to spend time with his two sons, Giacomo and Niccolò.
---
Leonardo Sagliocca – Italy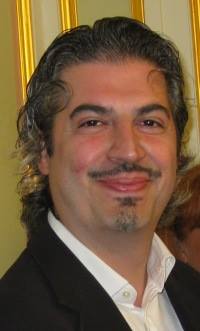 Leonardo Sagliocca is an italian bass-baritone. He was born in Florence. After an audition with the world famous baritone Gino Bechi, he was encouraged by him to begin the Opera singing career and began singing studies. After that, Leonardo Sagliocca continued his formation in the University of Music of Florence, the "Conservatorio Luigi Cherubini" under the scottish soprano Kate Lafferty Gamberucci. He finalized his preparation with two great baritones like Rolando Panerai and Leo Nucci. In 1998, he won the international competition "William Walton – the actor-singer", sponsored by The Prince of Wales, Charles. During this Master Class he was invited for a scholarship at the Royal Academy of Music of London. He performed as soloist in the seasons of Teatro del Maggio Musicale Fiorentino, Festival dei Due Mondi di Spoleto, Sagra Musicale Umbra, Festival Puccini di Torre del Lago, Ravenna Festival, Nuova Cappella di Palazzo, Associazione Musicale Lucchese, Amici della Musica di Firenze, Centro Busoni, Festival Internazionale di San Gimignano, Orchestra da Camera Fiorentina, Orchestra del Teatro Carlo Felice di Genova, Centro Internazionale di Musica Antica di Roma, Tuscia Opera Festival, Orchestra della Toscana, Estate Regina, South Bank Centre, Jeszienny Salon Muszyczny, Musiksommer Loisachtal. He performed with conductors such as Salvatore Accardo, Claudio Scimone, Alberto Veronesi, Lu Jia, James Lockhart, Massimo De Bernart, Jeffrey Tate, Claudio Desderi, Filippo Maria Bressan, Herbert Handt, Elisabetta Maschio, Giuseppe Lanzetta, Federico Maria Sardelli, Giovan Battista Varoli, Carlomoreno Volpini, Marco Severi. He has also performed many recitals with piano players, small vocal groups, small orchestras and big orchestras in cities like Barcelona, Madrid, München, Frankfurt, Köln, Kassel, Sczeczin, Innsbruck, Klagenfurt, Zürich, Lugano and in countries like New Zealand, United States, Taiwan and regularly in Japan (Tokyo, Osaka, Nagoya, Fukuoka, Kagoshima, Kumamoto, Niigata). He cooperated as talent scout, teacher and soloist singer with the "Maggio Fiorentino Formazione", the formation agency of the Opera House in Florence and one of the more historical and important Festivals in Italy, the "Maggio Musicale Fiorentino". He gave regularly masterclasses in Austria, China, Russia, South Korea, Poland, Japan, Taiwan. He recorded for Tactus, Bongiovanni, Kicco Classic, Clavis, Brilliant Classics. He is also invited as member of the Jury in important Festivals in Saint Petersburg, Bratislava, Vienna, Tallinn, Haarlem, Prague, Kaunas, Venice, Sopot, Daugavpils, Jeju, Hong Kong, Turku. In September 2016 he founded a new series of Music Festivals in Florence. The new Organization, named "Florence Choral" (www.florencechoral.com), produce every year five International Festivals for choirs and orchestras, dedicated and related to the most important personalities of the Florentine Renaissance: Leonardo Da Vinci, Michelangelo Buonarroti, Lorenzo De' Medici, Sandro Botticelli and Andrea Del Verrocchio. Leonardo Sagliocca ia also dedicated to choral conducting and, in the future, to Ensemble and Orchestra conducting.