Tim Sharp – USA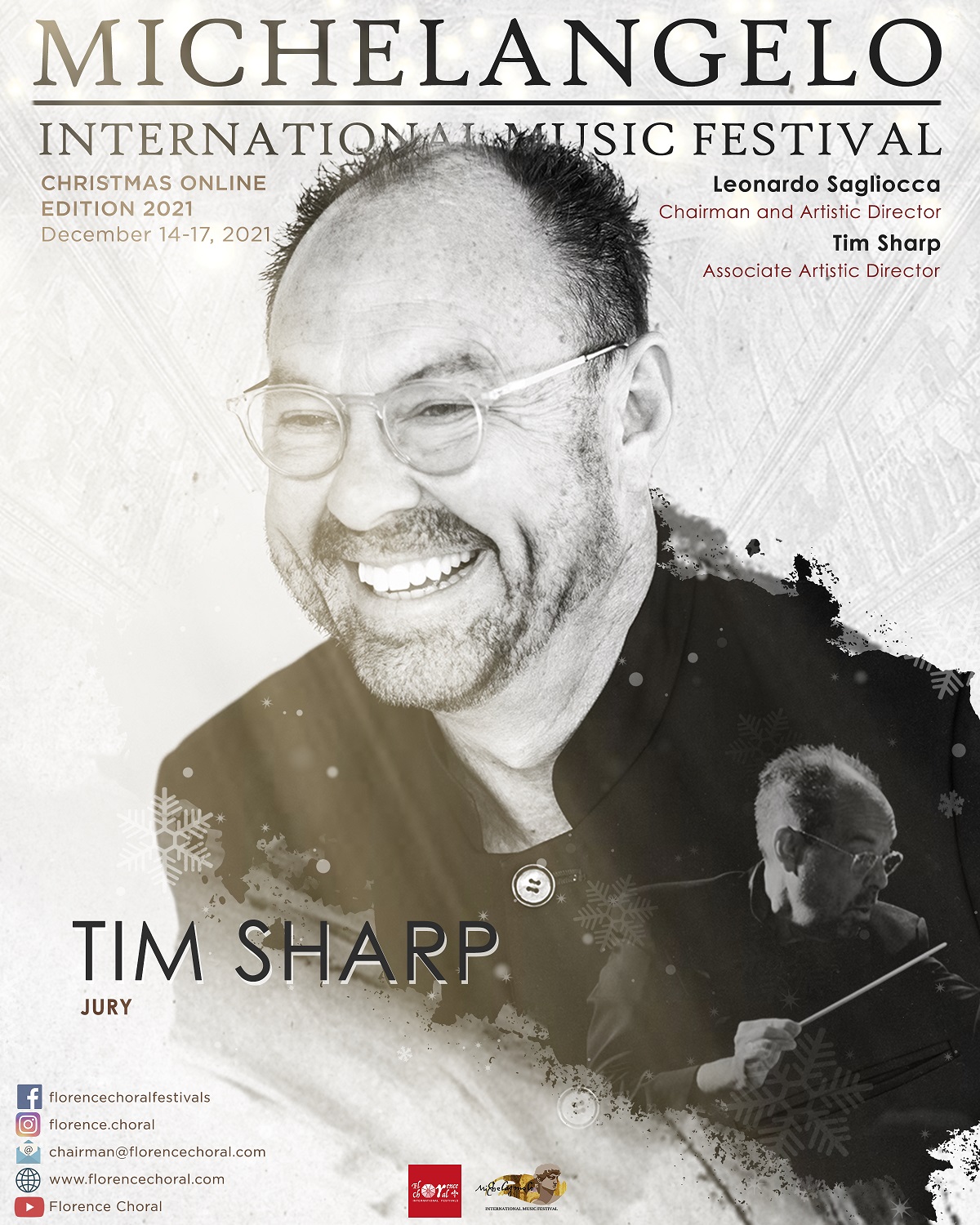 Tim Sharp is Former Executive Director of the American Choral Directors Association (2008-2020) and Board Member of IFCM. Dr. Sharp pursues an aggressive agenda of progressive initiatives to keep ACDA energized and relevant in the 21st century, inspiring ACDA's membership to excellence in choral music performance, education, composition, and advocacy. Tim is also in his fifth season as Artistic Director of the Tulsa Oratorio Chorus, Tulsa, where critics characterize his performances as having "stunning power" and "great passion and precision". Before coming to ACDA, Sharp was Dean of Fine Arts at Rhodes College, Memphis, where he conducted the Rhodes Singers and MasterSingers Chorale. Earlier, he was Director of Choral Activities at Belmont University where he conducted the Belmont Chorale and Oratorio Chorus. Sharp's publications include Mentoring in the Ensemble Arts, Precision Conducting, Up Front! Becoming the Complete Choral Conductor, Achieving Choral Blend and Balance, Memphis Music Before the Blues, Nashville Music Before Country, Jubilate! Amen!, Collaborative Creativity, and a variety of articles, essays, and CD liner notes. His most recent publication is the historical-critical edition Johannes Herbst: Hymns to be Sung at the Pianoforte. Published compositions and arrangements exhibit his interest in conceptual programming as seen in the collections Salvation is Created, An Early American Service of Lessons and Carols, the young voices series including Christmas Messiah for Young Voices, his own choral series through Gentry Publications, and A High Lonesome Bluegrass Mass, in which he regularly performs as a guest banjo player. Tim received undergraduate degree at Belmont University, and his MCM and DMA degree from The School of Church Music, Louisville, KY. His post-doctoral work has taken place at the Aspen Music School, Aspen; the NEH Medieval Studies program at Harvard University; throughout Belgium on a Rotary Scholarship; and at Cambridge University, where he is a Clare Hall Life Fellow.
---
Ko Matsushita – Japan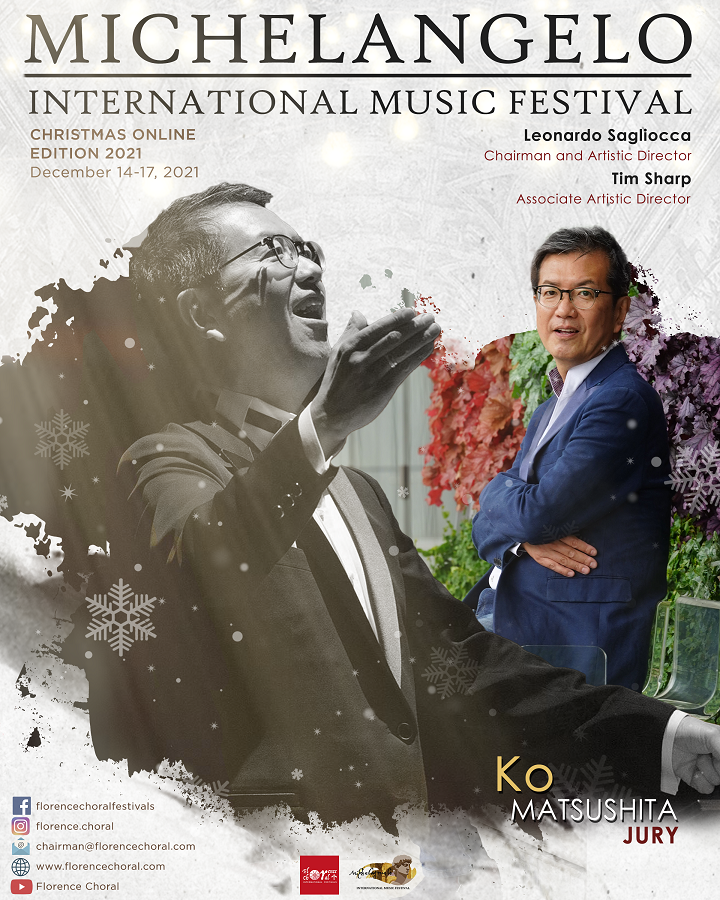 Composer and conductor born and raised in Tokyo, 1962. Matsushita is currently the conductor and artistic director of 13 choirs, which are often invited to perform in Japan, Europe, America, Canada, and Asia. They have also achieved excellent showings in the choral circuit and won awards in international competitions. A prolific composer and arranger, Matsushita's works are performed around the world. His compositions vary widely, ranging from works based on traditional Japanese music, Masses, motets, to etudes for choirs. His works are published in Japan by Edition KAWAI, Pana Musica, Ongaku no tomo sha Corp., Edition ICOT, and overseas by Carus-Verlag Stuttgart (Germany), SULASOL Helsinki (Finland), among others. Besides conducting and composing, he is also an active workshop clinician and lecturer both within and outside Japan. Especially, he has been adjudicating at many international choral competitions and composition competitions around the world. In 2005, he was awarded the"Robert Edler Prize for Choral Music" in recognition of his outstanding achievements worldwide in conducting, composing, performance, and education within the field of choral music. His choir The Metropolitan Chorus of Tokyo and he was invited to the National Conference of the American Choral Directors Association in Salt Lake City, Utah, USA as a guest choir and a panelist for Composer's speak out, moreover as a lecturer for a reading session in February 2015. Also, he was invited to Bach Academy Stuttgart as a lecturer for the workshop about his works in March 2016, at the same time his new work "De profundis clamavi" was performed by KammerChor Saarbrückn as a world premiere in Staatliche Hochschule für Musik und Darstellende Kunst Stuttgart. He was a member of the artistic committee of the 11th World Symposium on Choral Music in Barcelona 2017, and his work "Salva me" was performed by KammerChor Saarbrückn as a world premiere in there. In Taipei, Taiwan his work "Te Deum" for 4 groups male voices, Organ, String quartet, and percussions were performed as a world premiere by International professional groups in 2017. In 2019, he gave a keynote speech at the International Kodály Symposium (Kuching, Malaysia). He was invited to the honorary member of the National Association of Italian Choir Directors in 2020. He is currently the CEO of the International Choral Organization of Tokyo, the Artistic Director of the Karuizawa International Choral Festival, Tokyo International Choir Competition, and Japan International Choral Composition Competition. The Honorary Member of the National Association of Italian Choir Directors, a member of the Founding Directors of the Asian Choral Association, a member of the World Choir Council, the Vice President of the Tokyo Choral Association, Furthermore, he is a member of Japan Composers & Arrangers Association, Special Guest Professor at Kobe College.
---
Maria Theresa Vizconde Roldan – Philippines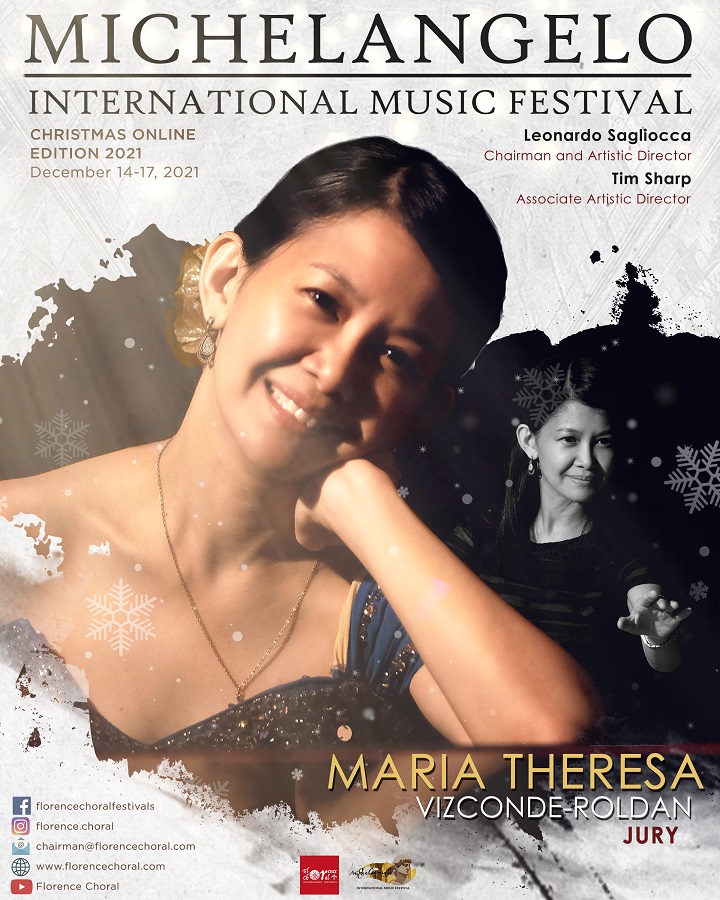 Dr. Maria Theresa Vizconde-Roldan finished her Doctor of Musical Arts in Music Education, summa cum laude, at Saint Paul University Manila Graduate School. She also graduated with a degree of Bachelor of Music in Music Education, cum laude and Master of Arts in Choral Conducting at the University of Santo Tomas Conservatory of Music. She teaches Conducting, Large Ensemble Class, and Music Education at the University of Santo Tomas Conservatory of Music and Centro Escolar University Conservatory of Music Graduate School. To propagate the Filipino choral music and in their advocacy to strengthen the children's choral movement in the Philippines, Theresa, together with her husband Jude, arranges Filipino folksongs and writes choral music for children's choirs. They also founded the Treble Choir Association of the Philippines and its resident choirs, the Young Voices of the Philippines and Kantabella, where she is the conductor and the co-artistic director. They organized Groundwork for Choirs, a series of choral workshops for conductors around Southeast Asia and launched their book Groundwork for Part-Singing, a collection of short pieces to develop the readiness of choristers to sing in parts. Her choral works have been published, performed and premiered at various choral festivals and competitions around the world. These works were published by Hal Leonard Publishing Company and Pavane Publishing in the USA. She was one of the featured composers and guest artists at the 2015 Pacific International Choral Festival in Eugene, Oregon, USA, the 12th Cantemus International Choral Festival and Conducting Mastercourse in Nyíregyháza, Hungary, Taipei Philharmonic Children's Choir Anniversary Concert, Bali International Choral Festival, Saint Angela Children and Youth Choir Festival in Indonesia, Treble Voice Festival in Singapore, International Kodaly Symposium in Malaysia, and the 6th World Vision International Children's Choir Festival in South Korea. As a sought after choral pedagogue and children's choir conductor, Theresa has been invited as guest conductor, choral clinician and has been giving conducting master classes, choral and music education lectures and workshops around the Philippines, Singapore, Malaysia, Indonesia, South Korea, Japan, Taiwan, Macau, Hong Kong, China, Australia, Sri Lanka, and the United States of America. She has also been invited to adjudicate in prestigious international choral festivals and competitions and has served as chairman for choir competition at the National Music Competitions for Young Artists (NAMCYA) in the Philippines. She led the Hail Mary the Queen Children's Choir to choral competitions winning first-ever Children's Choir of the World title at the Llangollen International Musical Eisteddfod in North Wales, United Kingdom and Choir Olympic Champion at the World Choir Games in Bremen, Germany. Presently, Dr. Maria Theresa Vizconde-Roldan is also the Vice President for Projects of the Philippine Choral Directors Association, President of the Treble Choir Association of the Philippines and conductor of the Young Voices of the Philippines and Kantabella.
---
Luca Benucci – Italy
Luca Benucci's vast performing and didactic career spans over 30 years and has left an indelible mark on the international music scene. Championing all genres of music under the batons of the most notable Orchestral Directors of our time, developing unique and varied Jazz, Chamber and Solo programs collaborating closely with Jazz and Classical Virtuosi and Pop/Rock stars alike, and by innovating new pedagogical approaches to performance and practice methodology, Mr. Benucci has positively influenced and enriched the lives of numerous professionals, amateurs, students, and audience members throughout the world. Mr. Benucci has been invited to play as Guest Principal Horn in many prestigious Orchestras such as the Chicago Symphony Orchestra, Berliner Philharmoniker, Staatskapelle Solisten Berlin, Super World Orchestra, Israel Philharmonic, Teatro alla Scala di Milano, World Master Orchestra and ConcertGebouw in Amsterdam. He still holds the full-time position of Principal Horn in the Maggio Musicale Fiorentino Orchestra since 1995, under the direction of Zubin Mehta. When he isn't working in the Orchestra, many of his other projects are done in collaboration with artists and musicians in chamber groups such as the Nuovo Quintetto Italiano, Italian Brass Ensemble, the Brass Dimension Ensemble and he is member of the Italian Wonder Brass. In addition to his musical work, Mr. Benucci founded and acts as Artistic Director of the Italian Brass Week, an annual International brass Symposium and Festival now in its 18th season, and the World Brass Association in order to provide easily accessible world-class education to students from both Italy and around the globe. He has also established musical organisations and groups such as the Italian Chamber Orchestra, Mimesis Formazione, Maggio Formazione, Sardinia Brass Festival, Santa Fiora in Musica, Note di Viaggio, and Meet the Soloists – a project that brings Principal players and Soloists from the All over the world together for intimate and informal concerts and lectures. As a highly sought after instructor, Mr. Benucci has held masterclasses in the most acclaimed Universities and Conservatories in the world, including Boston University, Roosevelt University, Juilliard School of Music, Curtis Institute of Music, Boston Conservatory, Indiana University, Puerto Rico Conservatory of Music, Ankara University, Ionian University of Corfu, Maastricht Conservatory, Barcelona Conservatory, Valencia and Madrid Conservatories, Tel-Aviv and Jaffa Universities, Musashino Music College of Tokyo, and the Shanghai and Beijing Conservatory, Singapore University, Manaus University, Puebla (Mexico) and Danzig University. He has also been invited as a guest soloists and teacher to international Brass Festivals in Japan, Cina, Costa Rica, Spain, USA, Mexico, Brasil, Uruguay, Germany, Austria, Swiss and many others. In his spare time, Luca is an avid chef and gastronome and loves to spend time with his two sons, Giacomo and Niccolò.