CORO AURORA (Modena, Italy)
Conductor LUCA BUZZAVI
The Aurora Choir of the C.G. Andreoli is aimed at children and teenagers with the aim of exploring all the expressive possibilities that the voice can offer, in a context of pedagogical growth. Numerous experiences have matured: in 2008 the Te Deum by Berlioz under the direction of Abbado, the Rataplan 2010 with Avion Travel, the opening of the International Festival of Military Bands in Modena 2011, the realization of the Dante Sinfony by F. Liszt and the 3rd Review organized by the City Choir of Bastia Umbra in 2012, participated in an exchange with Ostfildern (Germany) in 2013, took part in Onde Sonore di Cesenatico in 2014. Since 2015 it has organized the CORINFESTA Festival in Mirandola and has performed premieres of the homonymous Composition Competition. He earned the 1st prize at the 4th @mici in Musica Competition at the Social Theater of Mantua in November 2015, the 2nd at the 34th F. Gaffurio National Competition in Quartiano (LO) and the 1st prize and special prizes for the Best Director and Repertoire at the 4th National Competition of the City of Riccione. In 2018 he took part in the exchange with the Choir of the Pyrenees Conservatory (Berga, Catalonia), in 2019 with the Chantilly Conservatory (France). In lockdown it publishes numerous contributions and deserves two 2nd prizes and the prize for the best choir of Emilia Romagna at the 7th City of Riccione Competition and 1st absolute prize at the IXth "S. Vigilio inCanto "with admission to the GEF at the Ariston Theater in Sanremo where he was awarded the Special Mention. 1st prize at the International Choral Contest Vincenzo Amato 2021. He has participated in numerous masterclasses for conductors and serves as a laboratory for the 2nd International Competition for Choral Conductors "R. Gandolfi "and for the Aerco Academy school. The teachers: Luca Buzzavi (conductor and vocalist) and Tamara Proietti (LIS expert).
---
GRUPPO VOCALE TELEION (Mantova, Italy)
Conductor LUCA BUZZAVI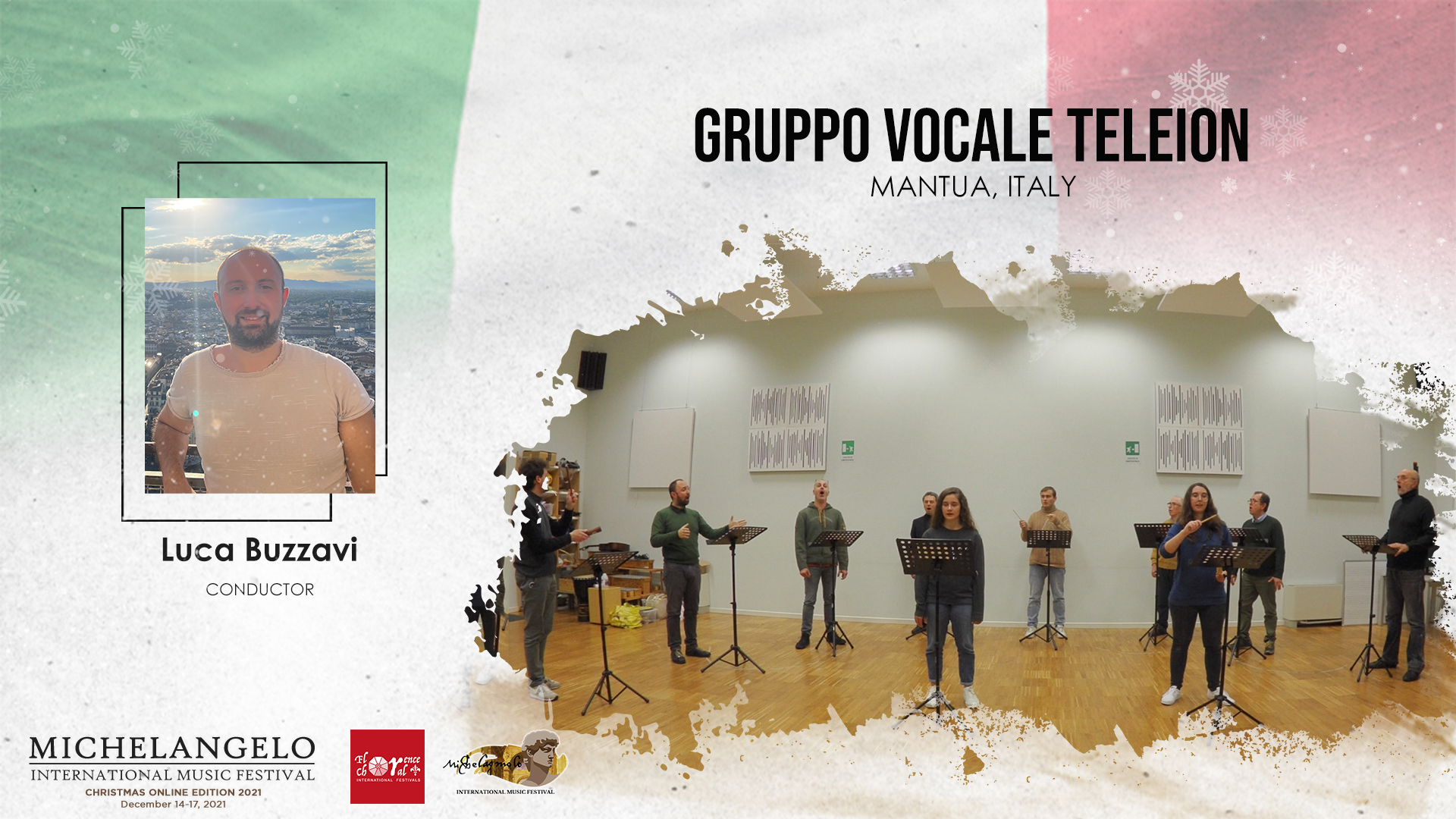 The Teleion Vocal Group was born in 2021 from the previous experience of the Chorus Range of Accademia Corale Teleion. Founded in 2010, the Gamma Chorus chamber choir has collaborated with institutions, schools, choral and orchestral realities including the Gregorian Cantori, Sicardo Choir of Cremona, Accademia MusiCaesena, Corale Discàntica, Schola Gregoriana of Mantua, F. Poulenc Female Choir, Ensemble The beautiful ties, the Madrigalists of Magliano in Toscana, choir and orchestra of the L. Campiani Conservatory of Mantua, Faventia Ensemble, gathering appreciation both for the commitment in the diffusion of choral culture and for the appreciable artistic level of the musical proposals. He has performed important choral pages such as Missa O Magnum Mysterium by De Victoria, Festino del Giovedì Grasso by Banchieri, Miserere by Allegri, Gloria RV589, Magnificat RV610 and Credo RV 591 by Vivaldi, Missa Dolorosa by Caldara, Cantata BWV 4 Christ Lag in Todesbanden and Bach's Magnificat BWV 243, Liszt's Symphony on the Divine Comedy, Duruflé's Quatre Motets sur des thèmes grégoriens, A little Jazz Mass and Chilcott's Jazz Songs of Innocence, as well as numerous pieces from the Middle Ages to the contemporary. In 2017 he obtained the silver band at the 35th F. Gaffurio National Competition in Quartiano, while the whole Academy was selected to participate in the Choir Day of the prestigious MiTo Settembre Musica festival. He took part in the choral festivals Di Cori un po e Suoni e Colori. In 2018 he founded the Teleion Choral Festival with the aim of disseminating choral culture through performance and training events also in synergy with extra-musical artistic forms. In 2019 he participated in the Irené International Festival in Chivasso (TO) and in the Ravenna Festival at the Basilica of San Vitale for the production of Missa Dolorosa di Caldara under the direction of Silvia Biasini. For information and contacts: facebook and instagram pages: @accaemiacoraleteleion e-mail: academiacoraleteleion@gmail.com
---
KOSAYU CHOIR (Malang, Indonesia)
Conductor AGUSTINUS WAHYU PERMADI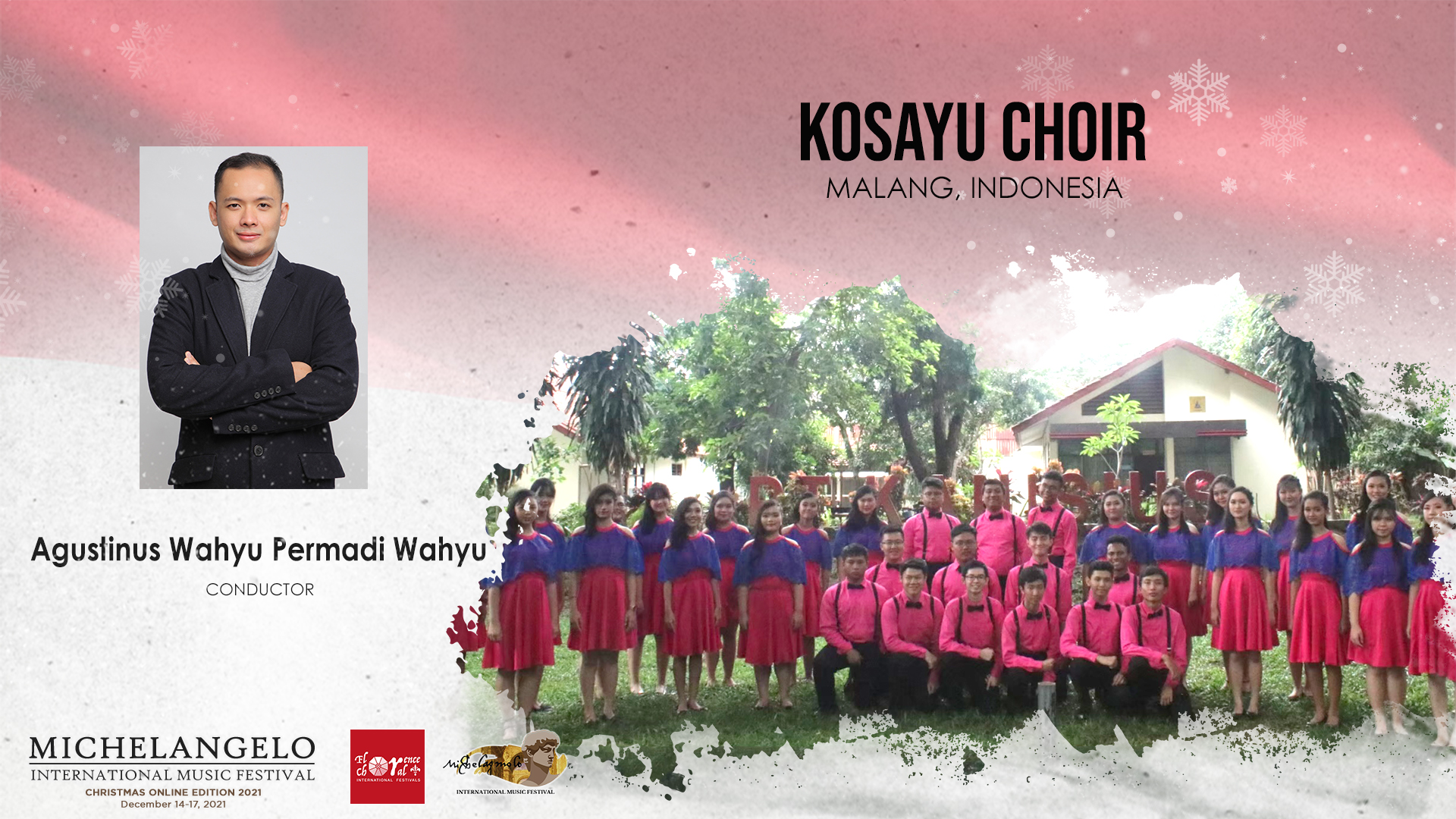 Kosayu Choir was founded in 1993. Kosayu Choir is a forum for developing talents in vocal and musical arts and is one of 30 branches of extracurricular interest-talent at SMAK Kolese Santo Yusup Malang. Since 1993, the Kosayu Choir has been actively organizing and participating in various concerts, workshops, competitions and church services. With the various activities that are followed, it is hoped that not only vocal skills and abilities will improve, but, more than that, individuals with good and strong character will be formed which of course will greatly support the personal development of students as a whole. To show their existence, this choir always participates in various international competition every year. Their achievements include:
Grand Champion University of Gadjah Mada 2019
1st place and Gold Medal Mixed Youth Choir Category in University of Gadjah Mada 2019
2nd place and Gold Medal Folklore Category in University of Gadjah Mada 2019
Gold Medal Teenager Choir Championship in 7th Bali International Choir Festival 2018
Silver Medal Pop and Jazz Category in 7th Bali Internasional Choir Festival 2018
Silver Medal Gospel and Spiritual Category in Penabur International Choir Festival 2017
Silver Medal Senior High School Category in Penabur International Choir Festival 2017
Gold Medal Mixed Youth Category 8th Brawijaya Choir Festival 2017
2nd Winner of the University of Surabaya Choir Festival 2016
and many more
---
MIXED CHOIR OF VLADIMIR NAZOR HIGH SCHOOL (Zadar, Croatia)
Conductor IVA MUSTAĆ KLARIĆ
The choir is conducted by Iva Mustać Klarić. The choir has performed at concerts, various cultural events and humanitarian actions throughout Croatia. Of the larger projects, we single out: the musical of students and teachers Phantom of the Opera (English composer Andrew Lloyd Weber), performed at the Croatian National Theater in Zadar; cooperation of the choir with the Blagoje Bersa Music School and the choir of the Mountain View High School (California) from the USA and cooperation with the Archaeological Museum in Zadar on the performance of the musical-scenic story Odyssey in the Past and Present. The choir nurtures, above all, the a capella way of singing. To date, the choir has included a large number of newly composed songs in its wide repertoire of songs, in addition to traditional ones. The choir recently won a gold and silver plaque.
---
NATIONAL CHUNG HSING
UNIVERSITY CHOIR (Taichung City, Taiwan)
Conductor YILI LI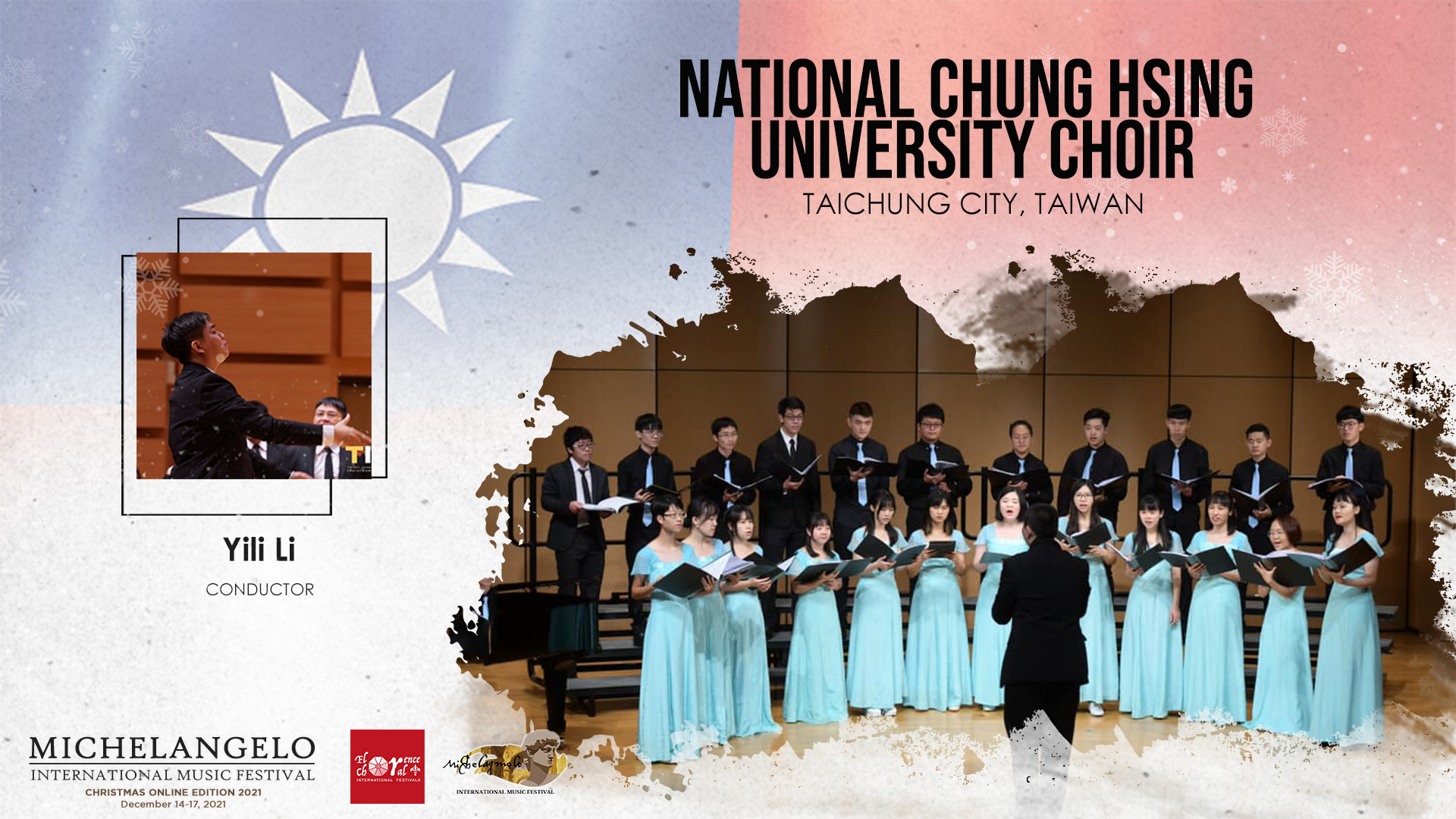 NCHU Choir was established in 1951.In the Mixed Choir Finals in the Central Region College Group of the 2014 National Student Competition of Music, our choir received the highest score, winning the Excellence Award. In addition, we also organized many interesting events every year, such as the Christmas party, the Welcome party, and gave joint performances with other groups. NCHU Choir has a long history, and it brought up many outstanding music talents. Our goal is to share music to others and serve the society with art, and we hope to keep growing in the future.
---
ORIANA YOUTH FEMALE CHOIR
(Odessa, Ukraine)
Conductor HALYNA SHPAK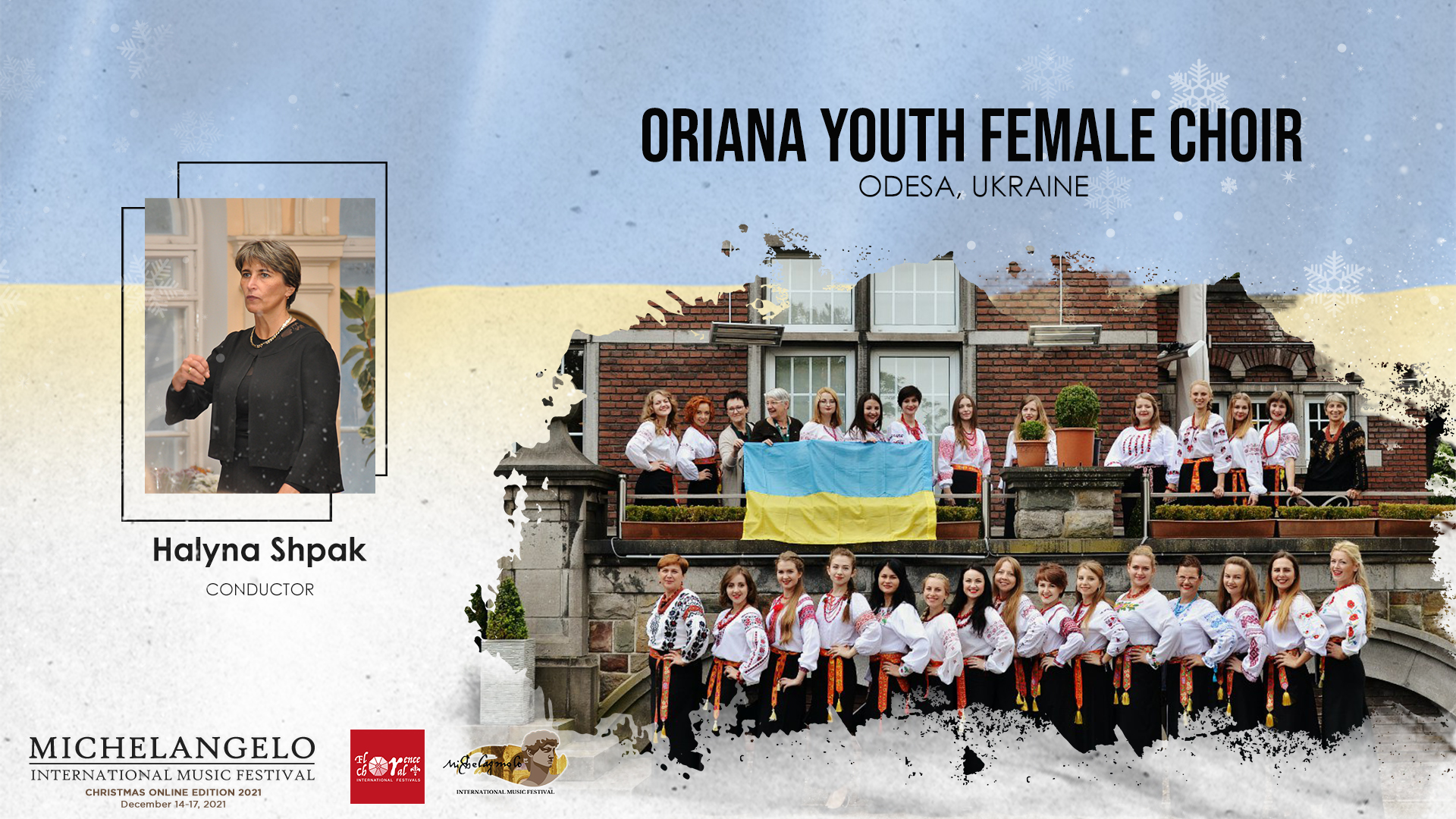 ORIANA youth female choir is amateur choir, which exists since 2008. Folklore program, classical choral works, sacred music are in the choir repertoire. The choir mission is revival and maintenance of the rich Ukrainian traditions of choral singing. Over 12 years we visited more than 14 countries, 25 cities and villages, participated in 25 international choir competitions, won 19 golden prizes, 2 Grand Prix, organised more than 150 performances. opened Ukrainian song to more than 5000 people
Awards:
2019. Ave Verum international choral competition Baden (Austria): Golden Prize (95 points), Special Prize "Best Interpretation of a Classical or Romantic or 20th century choral piece".
2019. Ukrainian festival-competition "Жайвір скликає друзів": 2nd prize in category "Equal voices".
2018. Grieg International Choir Festival (Norway): 2nd prize in category "Sacred music", 2nd prize in category "Contemporary music". 2017. Tampere vocal music festival (Finland): two gold medals (first prize).
2016. 64 Arezzo international choral competition (Italy): 1st prize in category Folk program, public prize, 3rd prize in category Equal voices compulsory program, 3rd prize in category Monographic program. Special prize for the most interesting performance in category Monographic program.
2016. 52nd Montreux Choral Festival (Switzerland): 3rd prize in category "Female choirs".
2015. 13th IKV International Choir Contest of Flanders-Maasmechelen (Belgium): 1st prize in category "Equal voices", Prize for the best performance of compulsory work "Red Red Rose" by P.Pieters, Prize for the best choir of the contest.
2015. The International May Choir Competition Prof. Georgi Dimitrov (Bulgaria): 2nd prize in category "Chamber choirs", 3rd prize in category "Equal choirs".
2014. VII Festival-Concurs Intrenational de Muzica Corala (Moldova): 1 prize in category "Chamber choirs".
2014. 32 INTERNATIONAL CHORAL FESTIVAL OF PREVEZA (Greece): 1 prize in category "Equal voices", 2nd prize in the category "chamber choirs", Special prize "Best Conductor", special prize for the best performance of Orthodox sacred music (composition "Glory to the Father …" by Irina Aleksiychuk).
2014. UKRAINIAN CHOIR FESTIVAL OF SACRED MUSIC "PENTIKOSTIYA" (Kyiv, Ukraine): Grand Prix.
2013. 31 FESTIVAL INTERNACIONAL DE MÚSICA DE CANTONIGRÒS (Spain): 1st prize in category FOLKLOR, 2nd prize in category Female choirs.
2013. 2nd International Florence Choir Festival (Italy): 1st prize in category SACRED MUSIC, 2nd prize in category Female choirs, 2nd prize in category Folklor.
2012. International Competition "South Palmira" (Ukraine): 1st prize in category Equal voices.
2012. 25 Bela Bartok International Choir Competition: 3rd prize in category Equal voices.
2012. 22 International Festival of Academic choirs IFAS (Czech Republic): 1 st prizes in categories "Sacred music", "National folklore", "Women choirs".
2011. II Krakow Advent & Christmas Choir Festival (Poland): 1st prize.
2011 International Competition "South Palmira" (Ukraine): Grand Prix.
2011 50 International Competition "Seghizzi" (Italy): Special prize "Best Equal Voices Choir", 3 rd prize in category "Polyphonic compositions of the 19th century", 5 th prize in category "Folk music".
2011 XXX International Festival of Orthodox Church Music"Hajnowka 2011" (Poland): 1 st prize in category "Amateur choirs".
2010 International Competition "South Palmira" (Ukraine): 1st prize.
2010 International Festival "Ohrid choir Festival" (Macedonia): 1st prize.
2010 VII Ukrainian festival "Dnepr Easter hymns" (Ukraine): 1st prize.
2009 International Competition "South Palmira" (Ukraine): 1st prize.
2008 International Competition "Constellation of the see" (Ukraine): 1st prize.
More information about ORIANA:
www.facebook.com/oriana.choir/
Audio: https://soundcloud.com/oriana-ua

---
QATAR YOUTH CHOIR (Doha, Qatar)
Conductor ALENA PYNE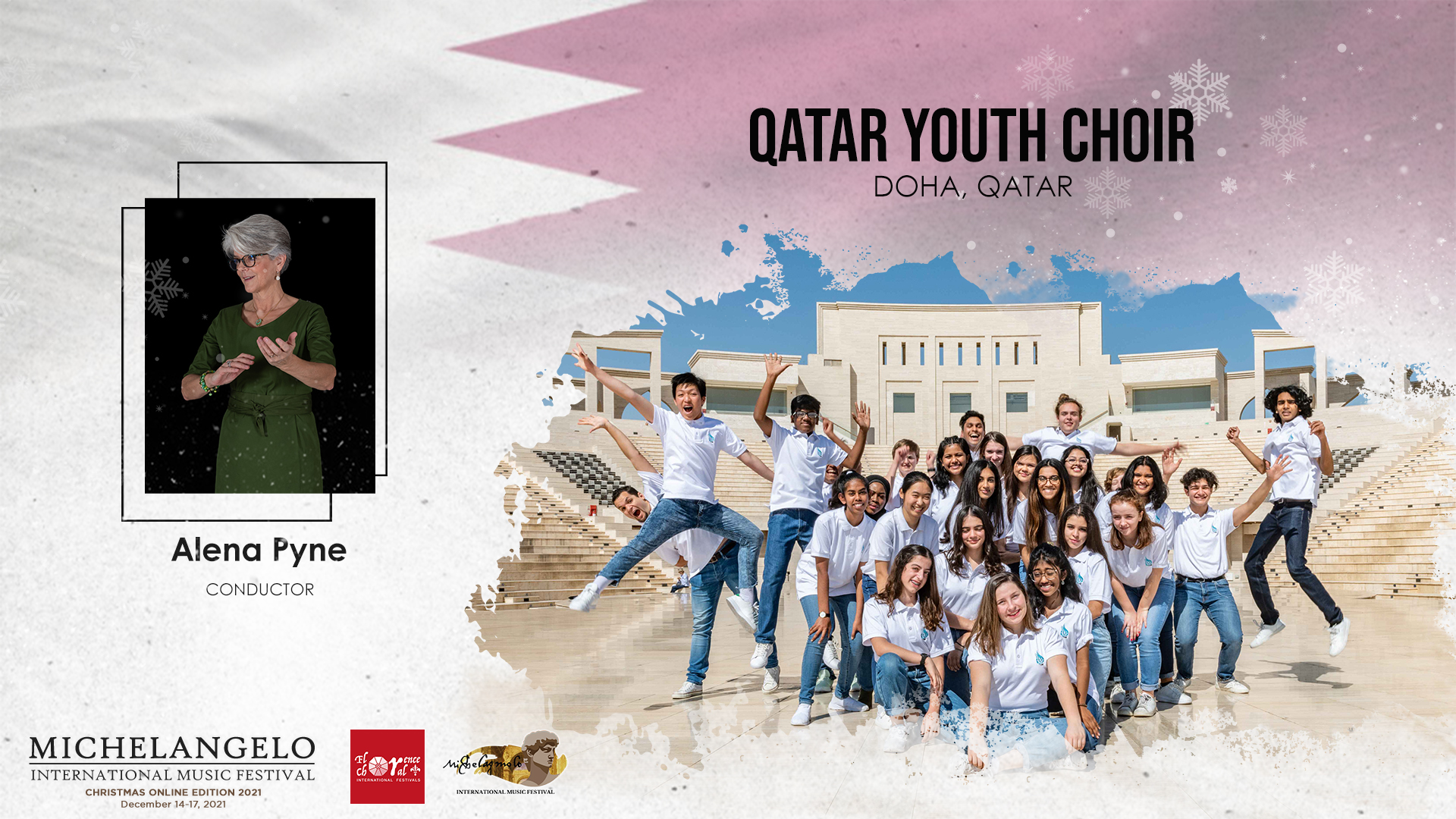 Qatar Youth Choir founded in 2013 by Irish-born conductor Alena Pyne, is for mixed voices aged 14-18 years, now in its 8th year. This is an ambitious choir that is always ready for a new challenge. Their motto since the beginning is "Carpe Diem" and covid has reminded them to take nothing in life for granted. They perform music from all epochs and in many world languages. Their favorite genre is folk songs from all corners of the world and they are especially happy to sing Arabic repertoire. They perform as required with Qatar Philharmonic Orchestra, which are always most special occasions. Qatar Youth Choir was awarded 1st prize in the youth choir category in Qatar National Music Competition in October 2017, the only time it was staged. They consistently score Distinction in annual ABRSM advanced choral exams (UK Examination Board) and have toured to Germany, Latvia, Poland, Croatia and Austria. They represented Qatar at the World Choral Expo in Lisbon in July 2019.

Alena Pyne
Irish conductor and founder and director of Qatar Youth Choir. Formerly she worked as Director of Music at King's College Doha. Currently she leads choirs at the Swiss International School of Qatar and is the MYP Music teacher under Qatar Foundation. She is a founding member and first Chairperson of Sing Qatar, the Association for Choral Singing. Alena offers choral workshops and has experience leading large-scale choral singing festivals like the annual Qatar Choral Festival. Alena is often invited as a choral competition jury member national and international, most recently for the Rovdo International Choir Competition in Minsk, Belarus when she also presented the lecture "Approaching Arabic Choral Music".
---
STUDENT CHOIR ONMA
NAMED A.V. NEZHDANOVA
(Odessa, Ukraine)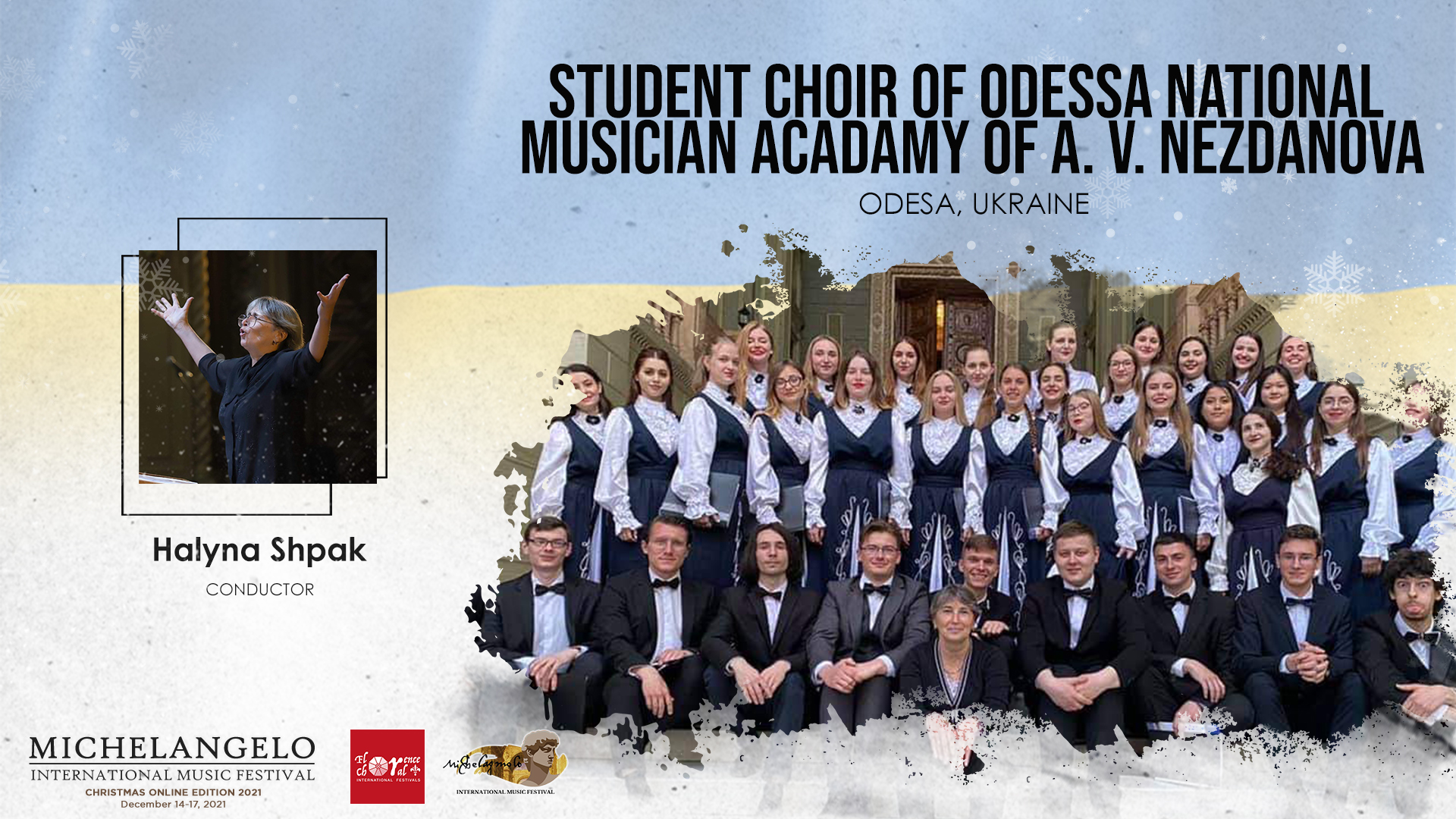 The ONMA student choir named after A. V. Nezhdanova was founded in 1936 by K. K. Pigrov. Over the years, the choir has been led by graduates and pupils of the Odessa Choral School. At present the repertoire of the choir consists of more than 300 pieces, including classic and modern secular and sacred works of the Ukrainian and foreign authors, arrangements of folk songs. Works by composers from Odessa occupy a special place. Choir is the participant and winner of many national and international competitions and festivals in Ukraine, Austria, Switzerland, Germany and Bulgaria. The choir has released 2 CDs. The choir is directed by Halyna Shpak, Candidate of Art History, Associate Professor, conductor of secular and orthodox choirs, winner of many awards, author of articles about choral music and performance.
---
TABASALU MA-MU CHOIR
(Tabasalu, Estonia)
Conductor PIRET PUUSTA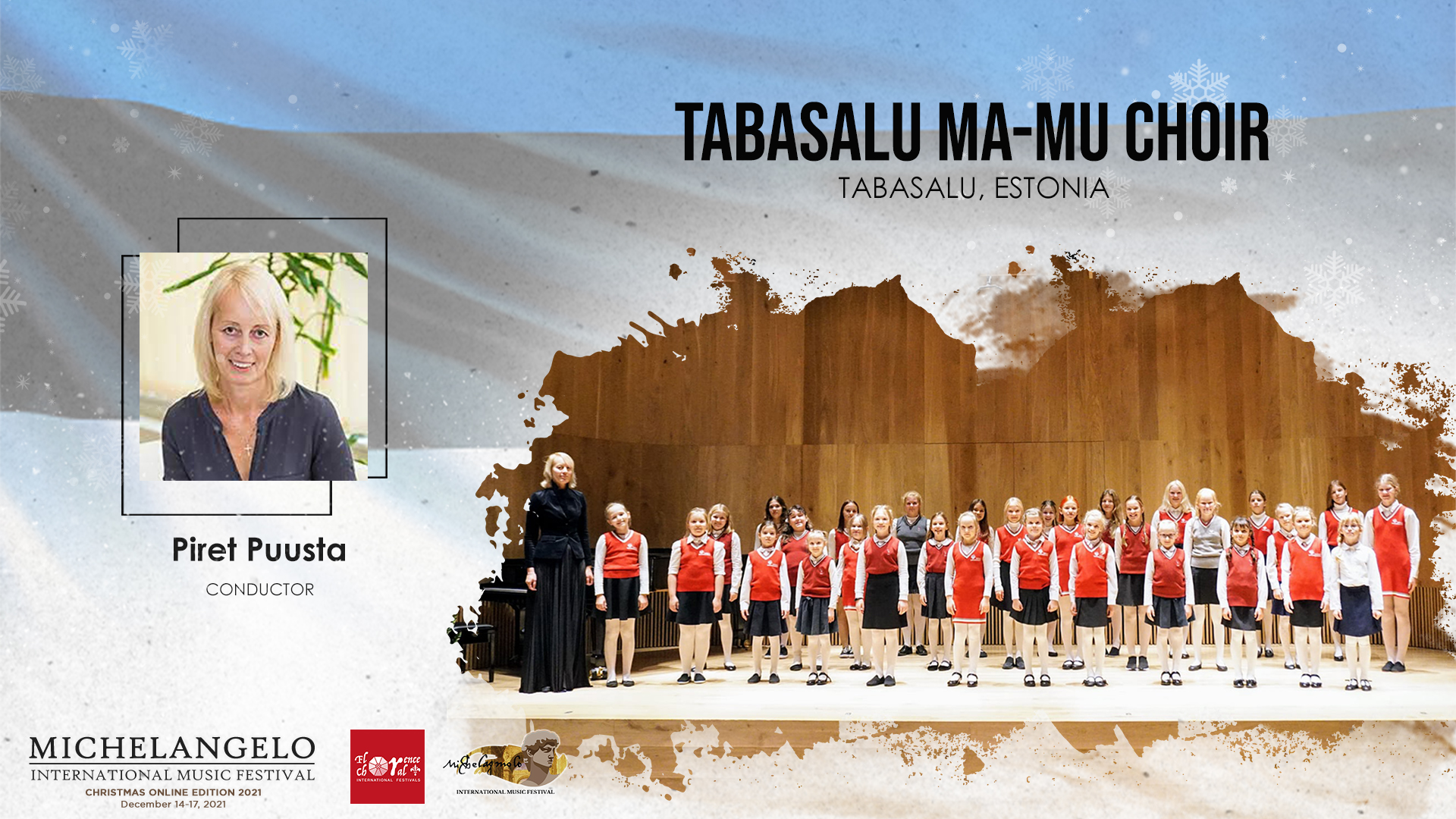 Tabasalu MA-MU Childrens Choir and Tabasalu MA-MU Young Childrens Choir was established in autumn 2011 from girls of mathematics-music joint classes at Tabasalu School. In choir participates girls at age from 7 to 12 year`s. In addition to singing in choir, girls also have block flute lessons. The purpose of the choir is to value our cultural heritage, traditions and introduce our cultural diversity. The choir`s music teacher and the conductor is Piret Puusta. The MM-MU choirs have attended in several project based concerts, song festivals and concerts. For example choir has participated in the 26th Estonian Song and 19th Dance Celebration (Tallinn, Estonia 2014); in 6th International Festival of Choirs and Orchestras (Venice and Jesolo, Italy 2015), The International contest 'Sea Sun Festival' (Lloret de Mar and Costa Brava, Spain 2016), The International Festival competition tour 'Legends of the Mediterranean' (Llorete de Mar, Spain 2017), 12th Youth Song Celebration "Here I`ll Stay' (Tallinn, Estonia 2017), 2nd 'Lorenzo de Medici' International Choral Festival' (Firenze, Italy 2018), International Choir Contest 'A Golden Voices of Montserrat' (Montserrat, Spain 2019), 27th Song and 20th Dance Celebrations "My Fatherland is My Love' (Tallinn, Estonia 2019), Rimini (ONLINE) International Choral Competition (Rimini, Italy 2021).